AW Reunion 2001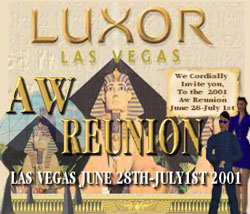 The AWReunion is only 2 ½ months away! Have you begun making your plans to attend? On June 28 - July 1, 2001, Active Worlds users from around the world are going to be making their way to
Las Vegas, Nevada for an informal gathering of friends and acquaintances. In addition to the fun social activities that we have scheduled, this year being offered for the first time are informational seminars with some of your favorite Active Worlds personalities! Two of the seminars to be offered are:
LIVE! Tech Talk with Roland - This weekly event that has been taking place with Active Worlds' Lead Developer Roland Vilett for over 2 years now, will be held live and in person at the AWReunion. This is an informal chat session with topics that range from current to future versions of Active Worlds, as well as the current state and future of online 3D technologies in general.
Community Town Hall with E N Z O - This is your opportunity to visit with Active Worlds' CEO Rick Noll and other involved Active Worlds' users. Here you will have a chance to ask questions regarding the development and direction the Active Worlds technology might be heading; and also have the opportunity to share ideas and visions that you feel might enhance the Active Worlds technology and community.
Additional seminars are also being planned and will be announced.
Mark your calendars now for a special PRE - AWREUNION PARTY to be held in the world REUNION! On April 27, 2001 beginning at 7pm VRT, we will host a party where you can come meet fellow Active Worlds users. Come see pictures of past Reunions, pictures of interested AWReunion attendees, obtain further information and meet avatar to avatar some of the people who you may bump into in Las Vegas. In addition, slated to be at the PRE-AWREUNION PARTY are E N Z O and Cryonics and other AWCom Staff. Come join in the AWReunion mania! :)
Just a reminder, the early bird reunion registration deadline is April 30 and the Luxor Hotel group rates are only available on a first come first serve basis. Check out all of the details at www.awcommunity.org/reunion or contact the organizers at reunion@awcommunity.org