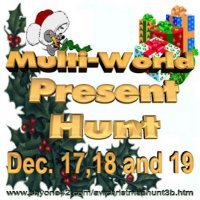 Multi World Present Hunt
Courtesy of Diane, OneSummer and Andras
It's that time of year again!!! Come and join the fun of the Annual Christmas hunt.
We hope that all world owners will sign up for this wonderful event. Its the time of giving and sharing! No matter where your from! This three day event will be one of excitement and entertainment. Share this special time during the Multi World Present Hunt December 17, 18 and 19. For more information check out the website or contact Diane or OneSummer.
Christmas present objects will be hidden all over Storage World... That means approximately from 50+n to 50s and from 50e to 50w and also included is the area in the south quarter of Storage world from 50s to 100s and 100e to 100w...
For hunt areas or additional hunt instructions for the other participating worlds, go to that world and look for signs...
In order for the presents you find to count for the hunt, just click on the present object, that's all there is to it!!!
The bots monitoring the hunts will keep a tally for all hunters so click on the present and you will get credit for having found it whichever world you found it in... The object won't disappear... That leaves it for the next hunter to find also... :o) Some presents will have a greater tally value than just one point...
Winning scores will be tallied from all the bot logs...
If you are a tourist you have to obtain a password from the bot. This will assure that you and only you will get credit for the hunt (not to mention that without a valid password, you are not allowed to hunt). If you lose your name due to some impersonator or by accident, you can acclaim from your old name and scores from the bot. You will not be able to claim two names, it is checked by several parameters!!!
A citizen is, of course, expected to hunt only under one citizen account name and number for the same reason as above...
Worlds currently participating in the hunt:
Aeon
America
Aquarius
AWEC
AWI
AWNewbie
AWUniv
blaize
BluPearl
Bridge1
DAAP
EdgeofN
Elvandor
Holidayz
Lorien
Medieval
MtHope
Pata
Pelican
Storage
Timewarp
VRSoup