Current edition: Vol.9, No.5, May 2006



AWEC Update
Courtesy of OneSummer // AWEC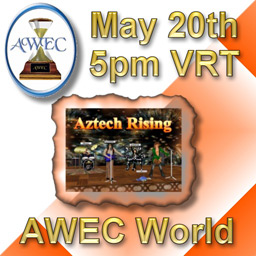 AWEC Presents the VR band Aztech Rising
Party Ship
May 20th, 2006 5:00PM VRT

The band has been touring the Active Worlds Universe since the fall of 2005 and this is the first time they will be playing on AWEC. Their music is thematic and deals with music for space colonies, mindscapes and other novel perspectives.

The concert features all original music influenced by a wide range of musical styles and could be characterized as sounding Beatlesque, Pink Floydish or Tangerine Dream-like with a generous sampling of electronica. Aztech Rising defines their music as a new genre, specifically "Warp 9 Ambient Rock.

See website at www.aztechrising.com for more information about this novel virtual reality band.

This will be simulcast on AWVR Radio.


AWEC Opportunities
The people at AWEC want to bring you many fun events in which to participate. If you have any events you would like us to sponsor, please let us know.

We Wanna Hear From You!
If you would like to write an article for the newsletter or have a project you would like to share with the community through this newsletter, please contact us (newsletter@activeworlds.com) to find out more about participating.
Send us feedback! E-mail comments to newsletter@activeworlds.com.