Why do we go to reunions? Why even have 'em? Here's a few of my thoughts on the subject.
I went to my first reunion at Asheville, NC in 2003 not knowing what to expect.

I commuted as I was only 40 miles from there, and when I got to the hotel, I was greeted like a long lost friend by people I had never met before except online. After a hug-fest and introductions were made in the lobby, we retired to the meeting room to partake in a small pizza pig out and got to know each other better. It was like I knew these people most of my life and they knew me also, even the most shy and retiring people were drawn out of their shells and, to all appearances, were having a good time!
The next day was Thursday and we of course were late getting started on the days' scheduled activities, but though some went on and visited the Biltmore House, some lagged behind, started talking and missed it completely! Neither group seemed to regret their decisions, and a good time seemed to be had by all. The dinner we had was interesting, as we were doing fine until some rapscallions decided to have a food fight at the end. I definitely wasn't involved in THAT!
Friday we went to Lake Lure for a picnic and then a boat tour after a day of beach activities in the mountain lake. The cookout went fine and socializing with the crew was grand. The dinner at Larkins and the guided tour were highlights of the week.
Saturday was a day when some went to Cherokee to the reservation, some went horseback riding, and some just chilled out by the pool and had a good time. That night we had a get together in the meeting room and some stuff was awarded... some very embarrassing stuff for ONE person, but we all laughed including the recipient! It was just done in fun and that was realized immediately.
Sunday was sendoff day and we said our goodbyes and headed to our various transports... all in all a good time and well worth repeating... so I did... the next year.
I arrived in Las Vegas, first of 3 people carpooling to Laughlin Nevada in 2004, gathered all my stuff and sat on it awaiting the arrival of Guri and Bcatts down by the passenger carousels. I had photos of them that were sent to me, as I sent my photo to them. As I watched both of them walk in circles around the area looking I chuckled to myself as they had NO idea of who I was LoL. I finally gathered them up, got my rental car, and found out we had an appointment to see a couple friends of Bcatts, (Bill and Sue Campbell) aka Bugman and Shyone. They had no idea that there was a reunion going on in Laughlin, and over lunch, we decided that they needed to come on down that Friday and spend the weekend. They did. Some of the same people that were in Asheville went to Laughlin, and a bunch of new ones from the west coast and locals came also.
When you get that diverse of a group of people together, you sometimes have problems. That wasn't the case in Laughlin, as far as I can tell, but some ideas were exchanged and new concepts were formulated on methodology of modeling and building, and many tours, trips, and expeditions were enjoyed by various people (Also quite a bit of gambling!).
We culminated the trip with a dinner cruise of the Colorado River and Stacee wore her dinner dress (black)!
That's just a small look at what reunions can be like, and by no means all-inclusive. All I can say, is the reason I want to go, is the friends you make online are even better in person, and the memories you make will not only last your lifetime, but theirs as well. I also met some people whom I would have never met otherwise, but I count as good friends today. So, why go... it's fun if you are looking for fun.
Why even have them: because it allows us to socialize with people on the other side of the monitor, and you just may make a memory you will cherish!

AWReunion Pigeon Forge
Come join us for a fun filled time in the Great Smoky Mountains, Yes! I'm talking about this year's AW reunion in Pigeon Forge Tennessee!
July 31st to August 4th 2008

Hosted by Cablecar Gal, Nevik, Neocube

www.awreunion08.com
We have scheduled a dinner cruise, a trip to a winery, and a day at Dollywood, in addition to other available attractions. Our hotel offers many amenities such as a continental breakfast, 2 swimming pools, wi-fi access, among others. This area is well known for its family oriented themed attractions, and has something to offer everyone, be it hiking, water parks, comedy clubs, shopping, or just plain good ole boy fun!

We hope you will consider spending part of your vacation with us and meet some of the nicest and nuttiest people you will ever find in one group... yes that's the Active Worlds Citizens and tourists!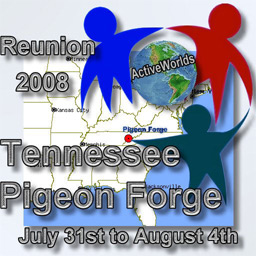 ---