Lensman is a retired Peacekeeper and creator of the Teleport Maze. He won a Lifetime Achievement Award at the 2006 CY Awards.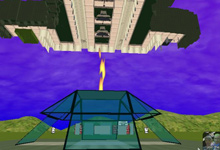 Built by the mysterious Seiya in 2002 is another part of the Zion project. Each one of the three Zion builds I know of is unique. You'll have to research the newsletters for previous locations (see AWSource). In any case it is a beautiful build and a fascinating use of VR to tell a story. It's well worth a visit. I forgot it's all above Station 388 hanging in the sky exactly the way bricks don't.
Location: AW 11671S 7346E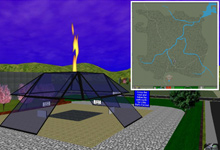 Who has never heard of LittleBull? His forest is one of the oldest and biggest builds in AW. Created in 1996 it has pathways, streams and hidden buildings. Remember as you explore that much of this build was accomplished by hand and must have taken years. To give you an idea how big it is there is an insert from the AW Mapper in the picture. So if you have a desire to get lost in the woods, this build, across the street from Station 28, is for you!
Location: AW 653S 556E

Announcement: If you would like your very own station (enhanced with 4.2) gram Lensman or contact Lensman64@aol.com. The land requirement is a minimum of 3X3 walk objects or Landa objects (which is better) and if you want the station to blend with your build 5X5 is best. Only 19 new stations to go!
---