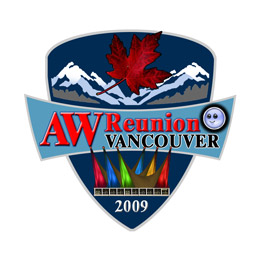 The food, museums, skyscrapers, and nightlife of Chicago. The mountains, red-rocked gardens, amusement parks and aquariums of Denver. The blue seas of the Caribbean, food and festivities of the cruise ship Imagination, crazy life of Key West, and the amazing ruins of Cozumel, Mexico. We've been trying to spice things up for 3 years now, and this year is no different. We've decided it's time to take a visit to our neighbor in the North, Canada, and Vancouver offers such an incredible variety that it had an overwhelming vote of confidence by you, the public. So Vancouver, here we come!

The site for many television shows and movies, it's long been known for it's spectacular mountains and lush landscape. English, Asian, and "First Nations" all play a part in the culture and rich heritage of this amazingly diverse area. With "its sandy beaches, modern architecture, expansive parks, great shopping, and beautiful snowy and wooded mountains all around, if you can't find something to do in Vancouver you must be dead" one visitor noted. And now one of the world's most beautiful cities is going to play host to the 2010 Olympics... but not before we get there first! Come join us for what will surely be another exciting chapter in the Reunion history books when we visit Vancouver, Canada, August 6-9, 2009.






We'll be visiting The Capilano Suspension Bridge built in 1889. Stretching 450 feet across a gorge 230 feet above Capilano River, the Capilano Suspension Bridge hosts wonderful attractions such as the "TreeTops Adventure", "Rainforest Tour" and "First Nations Cultural Centre." We'll take a trip to the heights of Grouse Mountain to see the view of beautiful Vancouver city below and take part in activities on top like a visit to the "Wildlife Refuge for Endangered Species", "World Famous Lumberjack Show" and "Theatre in the Sky", Canada's first high-definition electronic cinema.
For those a bit more daring, maybe you'll decide to careen through the air at speeds of 80km/hour on the Mountain Ziplines or paraglide from the peak of Grouse Mountain. Then to HR MacMillan Space Center for a virtual ride to Mars, a look at the the night sky at the Observatory, or catch a laser show set to Pink Floyd's "Dark Side of the Moon" album. And let's not forget a night of food and comedy as we have dinner at the Giggledam Dinner Theatre. From Chinatown to Gastown, to Dr. Sun Yat-sen Classical Chinese Garden to Stanley Park, from rainforest to beach to mountain, this city truly has a lot of everything.

So come join your fellow AW citizens in exploring a new destination together, meeting with old friends and making brand new ones. Sign up today at www.awreunion.com/2009!
Keep close watch in the coming week on our site for information about hotel accommodation, reunion fee, other attractions you may find of interest in the area, and little tidbits to keep in mind when traveling (like always bring an umbrella to Vancouver!) that will make your trip enjoyable and stress-free. And whatever you do, don't miss out this year!

Wonder what an AW Reunion is like? Let us show you!
AWReunion Cruise 2008

AWReunion Denver 2007

Visit AWReunion.com for More Details

See also: AWReunion Pensacola (Newsletter Article)

---