Support AW Centers Appearing
Courtesy of Maki // Support AW Organization
We first told you on AWNews about Support AW In-World Entities. They are Support AW's first type of venture into the fine worlds of AW!
Support AW Centers are small buildings that house a number of resources. From samples of our favorite web site features at supportaw.com, to Local Resources that reflect the world or town that specific Center is located in! Each Center is modified shortly after it is built, to offer customized and varying features.
With 5 locations at the time of this writing, our Centers are a big hit in AWTeen!
Check out these notable Support AW locations!
Location: 0001
AWTeen, 3000S 3000W

Our first public Center.

Location: 0006
AWTeen, 2765S 1133E



Support AW Stadium
AWTeen, 2628S 1188E

This is a Support AW Branded Building.
Our properties aren't just for AWTeen though. Anyone can have one! With our intelligent tracking methods we are able to place new requests in queue, and mass-modify or update the Centers whenever necessary.
Check out our In-World Entity page for more information about getting your own Center or branding a building.
Worried our Center won't fit in with your world? Introducing Custom Series. We're currently working on a whole new breed of Centers that'll be vigorously customized to match your world theme. These will of course, however, take longer to receive, and be less common.
We've secured our first Custom Series location in Martians world.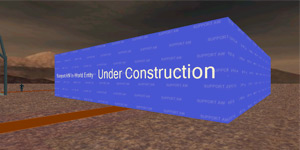 If you have questions, comments, or suggestions for Support AW's properties please e-mail inworld@supportaw.com.
Support AW is sponsored by JTech Web Systems.
Support AW Organization is not affiliated with Active Worlds, Inc.