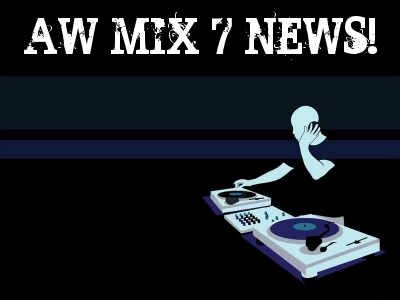 "AWMix07" celebrated the birthday of special citizen MaXPoly!
Wow what a weekend! One of the things that brings people together is great music and fun with friends. We had that for sure this weekend. PKToons DJs were rocking there with music for everyone. It was so nice to have so many people come to wish Max a Happy Birthday and dance and enjoy themselves. Max did a lot of smiling. I don't think he slept at all. He even got a birthday cake made by Class 3.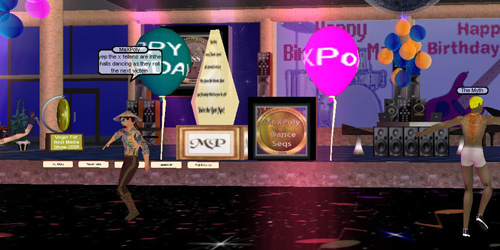 Thank you to everyone who made it so special for Max and for all the fun and laughs. Not only were we celebrating Max's Birthday, we were celebrating awards given to Class 3 and MaXPoly for their outstanding contribution and service to Active Worlds. Award to Max for "Extraordinary Contribution To The Community - Dance Sequences - >From AWI -Flagg" and a model from "The Citizens of AW - dedication to the Community" (Created by Garnet) Thank you Garnet. Award also goes to Class 3 also for "Extraordinary Contribution To The Community." Congratulations to you both. We appreciate so much, what you both have done to make it an awesome place for us all to be a part of.

April 25 saw the opening of AWSeason world in Active Worlds.
AWSeason is a seasonal world sponsored by AWI and owned by Mariane. She has done a wonderful job there. I asked her to describe for those who haven't been there what AWSeason was all about. Mariane told me AWSeason is a world full of joy and fun. It will have themes for times of the year like Halloween and Christmas. Additionally there might be different themes like the one there right now: "The Enchanted Forest." It's a world people can hang out together in. Tourists are welcome there. It is very much worth the visit. Mariane also intends to have a Wedding Chapel there. A contest will be held once in a while for a months free citizenship. We all respect Mariane as a builder. Thank you so much for inviting us and your hard work Mariane.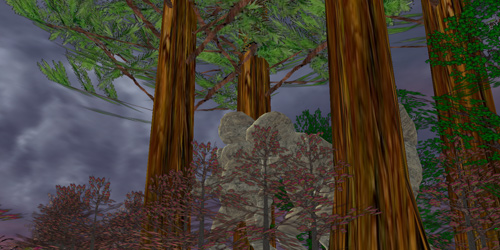 Thank you to PKToons.com Radio who provided great music and a lot of fun as usual. Thank you to the DJs who always do a great job making us all laugh. Also once a month PKToons celebrates birthdays for everyone in that month. They give away a months free citizenship donated by AWI. Zahara was the lucky winner this month. Congratulations zahara! Now you can have even more fun. So nice to see so many people there. You all make running events worthwhile. I know I had a great time.
Cheers to the special people of Active Worlds. You all rock!


To book a party contact Class 3 through pktoons.com.
To see upcoming events visit pktoons.com/party.

Teleport to AWMix07 World


---