Activeworlds Redesigned Website Unveiled
For those of you who may not have dropped by our newly renovated website, we invite you to do so!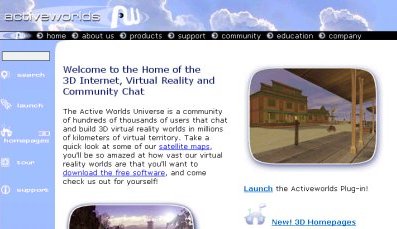 In addition to the bright, refreshing look, here are some of the other new amenities you will find:
Site Search - Now you are able to search the entire Activeworlds site, including the help files, with the click of a button!
Searchable Technical Support Database - Have you run into a snag? You just might find the answer here.
Searchable Video Card Database - Look up your video card to see if there are any known compatibility issues with Active Worlds.
One Click Auto-launch Plug-in - No more hassles with downloading and installing the Activeworlds browser. With a click of the mouse, our auto-launch feature does all of the work for you.
New Products - You'll want to check out the new 3D Homepages and the Solserver!
Online Technical Support Form - If you're having technical difficulties, you can fill out this quick and easy form and it'll be sent to our Technical Support staff, who will do their best to assist you.
Citizen Projects - If you have a great project idea, but lack the funds to get it going, you'll want to submit your idea here for consideration.
Feature Vote - Now you have a way to vote on the feature that YOU think Activeworlds should be working on next.
Suggestion Box - If you have an idea on ways that we could improve our product or service, let us know.