After a few hiccups and a short delay, the recent Millionaire Finale went off well. Airpark topped the worlds list with a peak of 34 users.
The event, which started some five years ago as a monthly test of knowledge for citizens and tourists alike, has seen changes mainly in the form of set design. Photos of the neon bright structure can be seen in GSK's photo albums:
Where do the questions come from? you might be wondering. GSK tells us the questions come directly from the popular television series itself, as well as funtrivia.com. With two "millionaires" in the finale alone, it is also interesting to note that no one has ever made it to the final question and answered it incorrectly.
That makes an incorrect guess at the million dollar question a special title along with other achievements such as walking away after the first question and winning without the use of lifelines. These achievements along with the use of Airpark's currency (AirPoints), issued for correctly answering questions, are available to those users with Airpark accounts.
​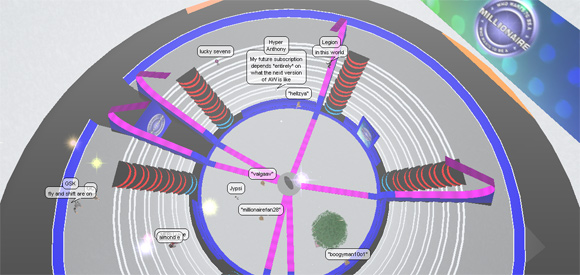 While the Millionaire event as we know it has been discontinued, GSK says the game will carry on in a new form known as Who Wants To Be A Millionaire: Hot Seat Challenge. Watch for this and other developments from Airpark3D in the coming months.
GSK would like to thank Alister Brenton, Tom Fournier, Reid Beer, and Anthony James Neace for their involvement and dedication to the success of Airpark3D.
And, congratulations to Bradly, almond e, "millionairefan28", "Late", and "hellzya" for successfully playing in the finale edition of Who Wants To Be A Millionaire.