Last month in Active Worlds, there appeared a flurry of activity going on as citizens and tourists congregated in the world AWReunion. Curious, I just had to jump in my travel teleporter to checkout the happenings.
​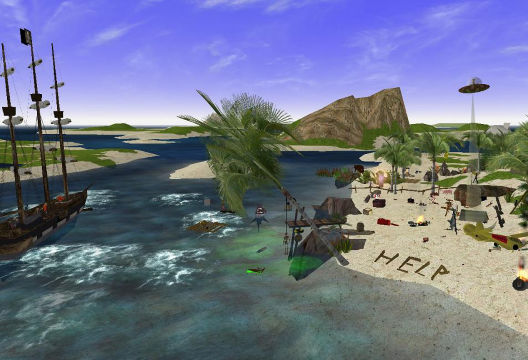 Upon landing, I found that The AWReunion world team, headed by the world's CT NurseMom and Community Town Meeting organizer Bach Zhaa, was hosting the Activeworlds Reunion 2012. The theme for this year's virtual reality event was "island camping" on a paradise beach. Originally scheduled for August 3rd-11th, the event was extended to the 18th due to the great response from community citizens and tourists. So much so that the world and event became the AW universe entry point!
I was captured by the inviting water reflections, so much so I had to dive in for a refreshing swim then sit under a waterfall. Surrounding the tropical island landing point, I came across a multitude of movers made by several talented creators. I got to surf the waves, paddle canoe, ride horseback, soar through the skies on an eagle, and eventually settled on a huge blimp where we rocked to music while checking out the VR reunion party.
They had a pleasant day and night cycle that enhanced the ambiance, and the atmosphere was filled with people building side by side while chatting on a global network. Several events were planned throughout the week to help keep the momentum rolling, from tours to dances to a luau party.
​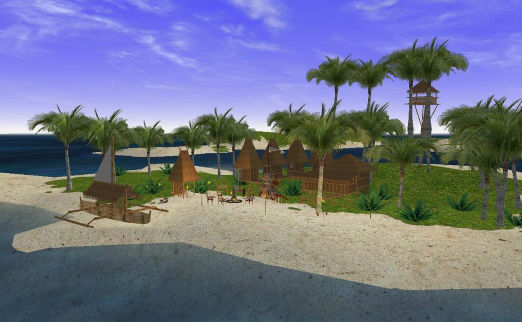 With well over a hundred camp sites, I spent days exploring as many as I could. Check 'em out when you can! I was fascinated by it all, and it was great to see AW citizens and tourists having a ball and building to their heart's content. Beware though the exploding volcano!
Word is that although the reunion event is over, AWReunion remains the universe entry point and the team has prepared a new area for the world's Fall/Halloween event. Can't wait to see what everyone will come up with! I also hear there are several Halloween builds awaiting to be explored in a number of worlds. I plan on visiting as many as possible! Should be quite the ghoooolish adventure.
Until next time, I'm gonna kick back in a floating tiki hut and watch the sunset. Happy explorations!
​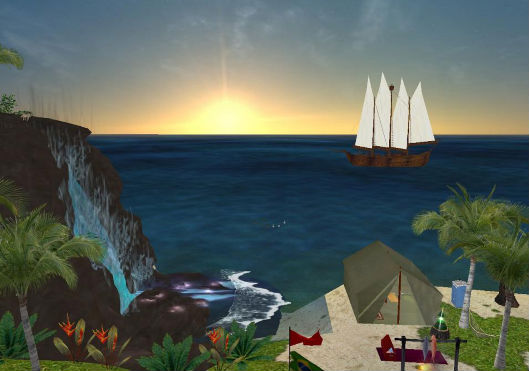 Like to suggest a place to be explored?
E-mail newsletter@activeworlds.com!