Get your nominations ready, it's Cy time again!
The Active Worlds 2009 Cy Awards World schedule is:
Nominations Open: October 16, 2009
Nominations Close: October 26, 2009
Voting Opens: November 1, 2009
Voting Closed: November 9, 2009
CY Nominees Ball: November 7, 2009 @ 1PM VRT.
CY Awards Pre Ceremony Show: November 14, 2009 @ 9PM VRT.
CY Awards Presentations: November 14, 2009 @ 10PM VRT.
CY Winners Ball: after the awards ceremony.

The theme for the Cy Awards this year is "Linking To The Future."
Information will be provided and updated at the web site:
http://awcommunity.org/cyawards/
The rules are the same as last year:

1. All nominations must be active since the last ceremony or November of last year.
2. Everyone qualifies except those that won last year and cannot win again in the same category. Clarification all previous winners can be nominated with the exception of last year's winners in same category that they won.
3. Please take time when the nominations open to fill out the form correctly. We receive 1000s for all the categories and correct information assures that your nomination is accepted.
5. Only citizens are allowed to nominate and vote.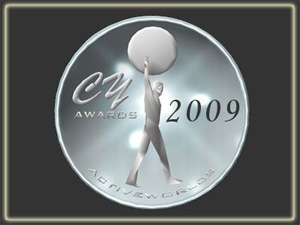 Categories are as follows:

Best Build
Best Event
Best Leader
Best Software
Best Avatar
Best Community or Town
Best Interactive Game
Best Media Presentation
Best Website
Best Bot Design
Best Effect
Best Landscaping
Best Object Design
Best World
Write-in
Contact Lady TeaL with any questions.
---